The unique natural beauty, within a magnificent alternation of green and wild mountainous scenery. Amazing beaches, which have view of the Aegean Sea and the Euboean bay.
The picturesque villages on mountain Ohi and the mountainous setting of Kavo Doro fascinate the visitors and offer them thrilling touring in combination with good transport net and the hotel substructure.
On the southeast of Halkida, N. Styra is located. It is north visiting Almiropatamos, a really nice village with its seaport Panagia. The beach of Mesohoria is exceptional.
Marmari is built on the west coast of Evia and is one of the most modern tourist resorts. On the opposite area are a group of the island Petali. The areas Figias and Koumadi spring are really nice. The beaches of Kallianos and Figias are offered for swimming.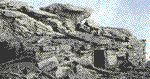 The Draconian Houses of the area, which are Cyclopean structures, are really impressive and make the visitors, wonder who and how they were built.
Karistos is a beautiful town built on the southern edge of the province, on the homonymous bay and on the shade of the dignified mountain Ohi. It combines the Euboean with the Aegean scenery. The gorge of Dimosari, the mountain Ohi and the plain of Karistos are of remarkable ecological importance. They impress the visitor with their great variety of plants and birds and their wild beauty.
Some areas really interesting to visit are the castle neat the beach of Karistos, the castle Rosso, and the Archeological museum. Very beautiful beaches are Potami and Bouro. On the South Euboea you can visit the villages of Kavodoro with great Archeological interest and attractive wild beauty, which will indemnify the visitor.
Central
North












Artaki
Artemision
Amarinthos
Avliona
Chalkida
Distion
Dirfion
Eretria
Elimnio
Istiaia
Kafireos
Karistoy
Kireas
Konistron
Kimi
Lichada
Aedipsos
Lilantio
Marmariou
Mesapion
Nileas
Orei
Stireon
Tamyneon