In this gulf of the Euboean Sea, this deep blue channel of water abound with dolphins and seagulls, the sun's reflection and the aroma of jasmine meet embrace Aedipsos. The crystal clear sea "the blood of Greece" and its bring shores invite you to prolong your days. In the background the Telethrio, the mount of peaceful silence, aborns Aedipsos with its shadows.
The hot spring water
There are over eighty thermal springs with temperatures ranging between 28 C up to 86 C. The main groups of hot springs are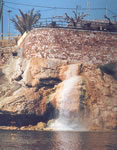 located at different points from where the water ic channeled into the baths in hotels and in public buildings. In these baths specially trained personnel treat the patients. Some of the baths are situated inside hotels whereas other to be found in public baths. The latest addition to these baths ist the center which has been built by the Greek Ministry of Tourism. This center offer every form of modern treatment. It si run by a highly trained medical and scientific staff. It houses eighty individual modern style baths, large reception and waiting areas, an indoor swimming pool, massage rooms, therapeutical showers, surgeries and a refreshment hall.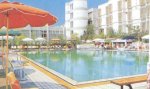 There is also a large outdoor swimming pool set in a delightful garden which can hold one hundred swimmers. This pool will shortly be equipped with a removable cover that will enable it to be used in the off season. On certain beaches together with the public beach patients have the opportunity to swimm in the warm sea water which is combination of sea and hot spring water. This combination is unique to Aedipsos.
Indication for hydrotherapy in Aedipsos
In the thermal waters of Aedipsos hydrotherapy is indicated for: all forms of arthritis, rheumatism, slipped disk, muscle pains, myositis, neuralgia, neuritis, lumbargo, sciatica, post-accidental inflammations, the waters are also indicated for a number of gynaecological complaints (salpingitis, endometritis, infertilities, ovary deficiency).