the island
picture-journey
travel guide
climate
journey there
ferry connection
holiday/sport
mountainbiking
windsurfing
sailing
health
real estate
building in greece

| | |
| --- | --- |
| | Karystos |

The city of Karystos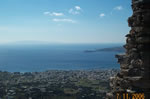 Karystos is located on the southern part of Evia, in one of the most beautiful locations. It is a city with well laid-out streets, squares and public neoclassical buildings. The manor houses and the traditional residences demonstrate the beauty of this city. The seafront with the traditional coffee spaces and the ouzo taverns predispose the visitor to relax in the shadow of the mulberry trees drinking ouzo and eating local snacks.
The approximate 5000 inhabitants live mainly on wine and fishing. There is also the production of olive oil, sheep and goat breeding and income from marble and stone quarries. Karystos is not typical tourist town. Besides some sailboats and mountaineering there are some Greeks who holiday here in the summer.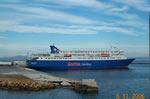 It is about 120 kms from Halkida and can be reached by ferryboats from Rafina(mainland) via Marmari. The characteristic Aegean wind cools the area during the hot summer months.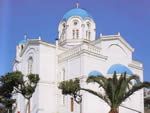 In 1843, Karystos as it is today, started to be built according to the street plans of the Bavarian engineer Birbach, after an order from the King Otto.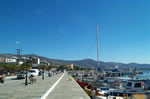 Some Brits and Belgians own holiday homes around the bay. Near the port and beach promenade are many restaurants and cafes catering to all tastes. Modern supermarkets with some international assortment of foods and traditional shopkeeper shops exist side at side. Motorcycles, mopeds and bicycles can be rented in the city.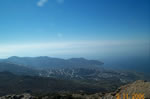 Two co-operatives have bought up large tracks of land on either side for 3200 holiday home for devitalised Athenians. Nothing to has been built to-date and the landscape looks as inviting as the moon where once plane and cypress trees grew in profusion.
Impressum
who we are?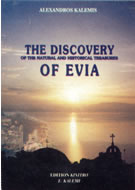 accommodation
camping
communication
Greek cusine
nature
ecosystems
sightseeing
monasterys
museums
other
links