the island
picture-journey
travel guide
climate
journey there
ferry connection
holiday/sport
mountainbiking
horse riding
diving
windsurfing
sailing
health
real estate
building in greece
Ellinika

The village is located on a slope of a hill covered with pinetrees. Its name was derived from the Greek ("ellinika") ships which anchored at the beach before the naval battle of Artemisio.
Its beautiful beach is a real jewel and offers protection for small boats, with pine trees along the sea. Opposite the beach, there is a small island with the church of St. Nikolaos. Swimming to the island is an opportunity to enjoy a workout.
A passable dirt road leads from the village to a less cosmopolitan but neverthless extraordinary pebbly beach called Mavrikas. You will find small taverns, restaurants and ouzeris on the beach as well as in the village. There are also hotels, rooms to let and fully furnished studios.
Impressum
who we are?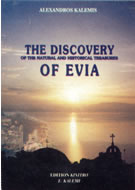 accommodation
camping
communication
Greek cusine
nature
ecosystems
sightseeing
monasterys
museums
other
links