the island
picture-journey
travel guide
climate
journey there
ferry connection
holiday/sport
mountainbiking
horse riding
diving
windsurfing
sailing
health
real estate
building in greece
| | |
| --- | --- |
| | Gouves |
A traditional village built on two mountain slopes full of plane- and pine trees. During the Turkish domination the region belonged to the Turk Bey Mohamend Ibrahim and his sister Haime Naile. In 1831 the Turks sold their land to the Greek Vaptistis Drossos and Alexandros Desylas. In 1882 the land of the community was transferred to its inhabitants. The only high school in the Municipality of Artemisio is situated in the village.
A tower, where the Greek poet George Drossinis lived, rises above the village. The tower has been restored to accomodate a museum. On the beach of the village is the fortress of Metaxas, which served as a defense post during the World War II and still remains. You can still see the base of the cannons, the cook-house and the watch tower. In Gouves you will find taverns, restaurants and oueris.
You will enjoy swimming at the beach of the fortress and Kastri.
Impressum
who we are?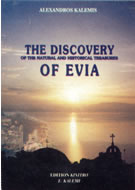 accommodation
camping
communication
Greek cusine
nature
ecosystems
sightseeing
monasterys
museums
other
links