the island
picture-journey
travel guide
climate
journey there
ferry connection
holiday/sport
mountainbiking
horse riding
diving
windsurfing
sailing
health
real estate
building in greece
| | |
| --- | --- |
| | Asminio |
This is a modern village which maintains its local character. Its former name was Potaki or Potoki (a word of Turkish origin) which means swampy area. It offers comfortable accommodation and it is known for its popular ouzo tavern situated at the central square. The village produces salted preserves of excellent quality.
It is worth visiting the church of Virgin Mary Dinous, 6 km from the village on the way to Istiaia, built in a magnificent landscape of planetrees and flowing streams. The word "Dinious" is Turkish and means "return". According to tradition, when a Turkish soldier fired at the icon of the Virgin Mary, the bullet backfired and killed him. Her memory is celebrated on August 23 at a big fete wich attracts many of the locals as well as tourists.
You can enjoy swimming at the beach of the village Pefki, Kefales and Santa Helene.
Impressum
who we are?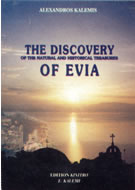 accommodation
camping
communication
Greek cusine
nature
ecosystems
sightseeing
monasterys
museums
other
links