the island
picture-journey
travel guide
climate
journey there
ferry connection
holiday/sport
mountainbiking
horse riding
diving
windsurfing
sailing
health
real estate
building in greece

| | |
| --- | --- |
| | Agios |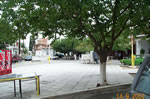 One of the largest villages in Northern Evia is Agios on the lower parts of Theletrio at an altitude of abouth 100 meters. Modern Agios extends over a range of hills next to the road that connects Aedipsos with Istiea.
The village Agios first appeared in the years of the Turkish occupation as a compound of smal settlements. During the Osmane invasion the village was very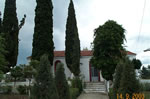 completely destroyed by fire. According to legend. This disaster is closely connected to the first appearance of the name "Agios"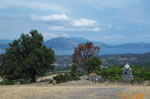 Shortly before the raid of the Turks an old man appeared in the village wh warned the villagers of the immient catastrophe. Thus they were spared the sureprise but also their lives. The Turks contented themselves with destroying the buildings. Naturally, the villagers believed that some unknown saint had saved them. Consequently, when it was rebuilt they called the village "Agios" (Saint) without special reference to any particular saint.

A nice view we have from the chapel Agia Panagia to the sea and to the village.
| | |
| --- | --- |
| | |
One fantastic view over the landscape we have at this place, where lies tho old village. How do I get there? We drive in the village at the head and arive a small plaza. On the end of the plaza, to turn to one's right towards child recreation home(signposted). After ca. 3,5 km
is the child recreation home. So far you can drive with a normal passenger car. After the street is very poorly. Either you have a all-terrain vehicle or to hoof it the last 700 m. From here you can see the peninsula Lichada, the Strait of Orei, on clear days the town Volos on the mainland and the island Skiathos.
Impressum
who we are?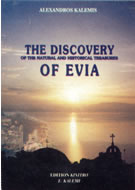 accommodation
camping
communication
Greek cusine

nature
ecosystems
sightseeing
monasterys
museums
other
links